Shopping Place In Jaipur, the capital of Rajasthan, attracts tourists a lot in terms of shopping. Because everything is available at the shops here, which all tourists take with them as a reminder, whether indigenous or foreign. Here you can do the best shopping of designer handwork bags to Jaipuri shoes, Jaipuri designer clothes, bangles.
Through this article, we are giving you a list of famous markets of Jaipur, from where you can buy the right thing at a reasonable price. Also, we will tell you which things you should buy from Jaipur especially. So let's visit the shopping market of Jaipur. And know about their specialty.
 Johri Bazar Jaipur
Jaipur's Johri Bazaar is very famous for shopping. As the name suggests gems and jewelry are found here. Here especially you will find Kundan jewelry. Here one can easily find a variety of designs in many stones. The shop offers some dazzling jewelry with precious and semi-precious gems and handmade necklaces at affordable prices. Not only this, here you will also get to buy traditional lehengas and saris of Rajasthan. Even if you want to do wedding shopping, then you can do wedding shopping from Jaipur's Johri Bazaar. Because here you will get a good collection of jewelry to bridal lehengas and saris in one place
Johri Bazaar opening hours:
Johri Bazaar is open from 10 am to 11 pm. It is open on all days of the week.
FIND-  best ice cream parlor in pink city
Tripolia Market
Tripolia is also a good and cheap street market in Jaipur. Tripolia Bazaar is famous for its lacquered jewelry and various types of bangles. From here you can also buy other clothes including bandini and other dye fabrics. One can get a good item at a reasonable price with some bargaining here.
Tripolia Bazar Jaipur Rajasthan opening hours :
It is from 10 am to 7 pm. It is closed only on Sundays.
Chandpole Market
Chandpole is one of the most traditional shopping destinations of Jaipur. There is something for everyone in Chandpole Bazaar. The goods in the market, in a way, provide a glimpse into the colorful culture of the Pink City. Don't forget to bargain when you shop here!
There is a place called Ek Treasurer's Way from where you can buy turbans, carpets, handicrafts, shoes, wooden sculptures, and much more. Marble sculptures are very famous in this market. The prices are also not very hi-fi and are quite affordable. Chandpole Bazar is situated near old Jaipur.
Kishanpol Bazar
Fabric at the best price is available in Kishanpol Bazar, Jaipur. Its name makes it one of the best places to go for street shopping in Jaipur. The place is famous for its wood carvings and one can buy amazing wooden sculptures and souvenirs from Kishanpol Market as gifts for family and friends.
Kishanpol Bazar opening hours:
It is from 10 am to 9 pm. It is closed only on Sundays
How to reach Kishanpol Bazar:
Chandpole Metro Station is the nearest metro station to the market at a distance of 2 km.
FIND – clubs and discos in Jaipur
Bapu Bazaar Jaipur
Bapu Bazaar is the fashion street market of Jaipur. This market is famous for its leather products and Mojri shoes (famous Rajasthani footwear made from camel leather). Textiles, handicrafts, perfumes, lehengas, sarees, sandstone, etc. are found at other shops here. Jaipur's famous market Bapu Bazaar is like an all-in-one market with a wide variety of items available. Here you will find all the options from cheap to expensive for shopping.
Right time of Bapu Bazaar
From 10:30 am to 7:30 pm, it is open on all days of the week.
Nehru Market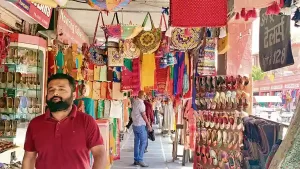 You also know that the Mojri of Jaipur is famous all over India. If you are going to Jaipur and are a fan of Mojri, then head straight to Nehru Bazaar in Jaipur. Here you will find stylish socks. Here readymade clothes are also available at reasonable prices. It has a few shops that offer home goods, bags, gifts, and shoes.
Nehru Bazar Jaipur opening hours
It is from 10:30 am to 7:30 pm. It is open on all days of the week.
Badi Chaupar
The market takes time, but if you are in a hurry and want to do a lot of shopping, then going to Badi Chaupar in Jaipur is the best option. From here you can buy clothes, bedsheets and many more gift items. Badi Chaupar is the old city of Jaipur, with a busy central market selling silver, quilts, and Rajasthani snacks.
Jaipur ki Badi chapter-opening hours
10 a.m. to late night
Mirza Ismail Road
Shopping Place In Jaipur Mirza Ismail Road is the perfect shopping destination for those who love to buy one-of-a-kind pottery, wooden artifacts, and brass sculptures. You can also gift such beautiful handmade items, which look very beautiful. This market offers a lot of options for all those who want to buy items to decorate their homes or to gift to their loved ones. This street market of Jaipur is famous for its jewelry, pottery, brass as well as wooden sculptures, and branded clothes.