It's hard to resist the temptation of eating delicious food in comfort at home.
OTG and the microwave oven are two of the most used appliances for baking and grilling. However, chppsing a model can be tricky. So, how to choose an OTG and is it better than a microwave oven?
Microwave ovens have been on the market for a while, but it is starting to lose their appeal as OTGs take over.
Each appliance has its advantages. You should understand the differences and then choose the one that suits your needs best.
This article will explain how OTGs and microwave ovens differ and the parameters that are involved. We will also help you decide which of these is better.
How to Choose an OTG? Consider These Factors
OTG can also be used as a Toaster, Oven, and Grill. These are the top OTG models.
Let's now dive deeper and learn more about OTGs, starting with their construction and ending with their benefits. This covers all the major parameters.
1. Working Mechanism
An OTG has a variety of coils that produce heat continuously when it is turned on. These coils generate heat that can be used to cook food regardless of its method of cooking.
The OTG has a fan built into it that distributes heat evenly across the platform. This fan has the advantage of evenly heating the food, which would results in uniform cooking.
2. Features
An OTG oven has multiple floors of racks. This allows you to make multiple batches of cookies or cakes at once. This is a great feature if you plan to use the appliance for cooking/baking large quantities of food.
The appliance's exterior has temperature and time controls that allow you to set the desired heat and duration. This increases the versatility of the appliance, making it easier to prepare delicious dishes.
You can use OTG utensils made of Aluminium, Silicone, or Glass. These are the most common materials for utensils we use at home, so you don't have to buy them separately.
3. Efficiency
OTGs take a lot longer to cook. OTGs are designed to heat slowly so that the food is cooked evenly and the texture of the food can be enhanced.
4. Capacity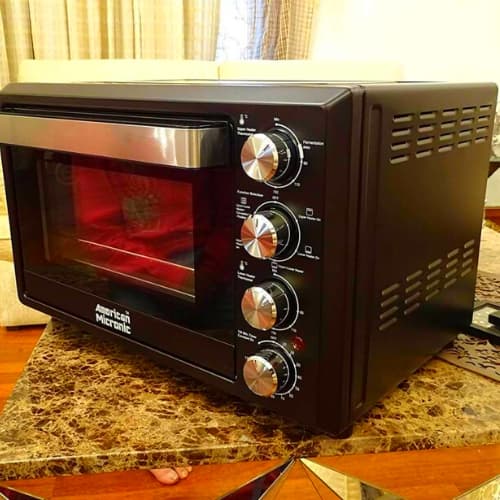 OTGs have a maximum capacity of 60 litres. This appliance is ideal for large quantities of cooking.
5. Price
A 42-litre OTG costs on average Rs. 11,000. OTGs can be a great option for those with tight budgets as they are very affordable and have a large capacity.
These factors can be satisfied by reading Morphy Richards OTG Review and then choosing a model that suits your needs.
How to Choose a Microwave Oven? Consider These Factors
Now, as you know how to choose an OTG, let's know which all considerations are important if you chooser a microwave oven.
A microwave oven is a popular appliance that is used to heat food. Let's explore the parameters of this appliance to learn more.
1. Mechanism for working
A microwave oven, as its name suggests, works by heating up water molecules in food items to allow them to cook.
Each microwave oven has a magnetron device that produces microwaves. Microwaves can absorb electromagnetic radiation from food.
These microwaves vibrate and bounce off the metal surfaces of the oven's interior, causing vibration. This would eventually cause friction between food particles, which would heat up the surface.
2. Features
The LED display allows you to easily monitor the settings. You will also be able to adjust the cooking mode, temperature levels, and time.
You can use glass, silicone, or plastic utensils for cooking in your microwave oven. Avoid metal utensils when using a microwave.
3. Efficiency
When it comes to cooking, microwave ovens are extremely efficient. They take less time than an OTG. A microwave oven uses very little energy, which is a big advantage over an OTG.
4. Capacity
The average microwave oven has a 32-litre capacity. You might need to cook large quantities of food in multiple batches. If you need to cook large quantities of food, this is not an option.
5. Price
OTGs are much cheaper than microwave ovens. A microwave oven costs Rs. For a 30-litre capacity, the price is 18,000. If you choose high-end brands, this rate may vary.
Note – If you prefer sewing at home, look at the Brother CP 7500 Sewing Machine Review and select a suitable model for your needs of sewing.
Conclusion
OTGs and microwave ovens both have their pros and cons. However, OTGs are more versatile than microwave ovens in many ways.
An OTG is a great option if you are going to be cooking a variety of dishes. An OTG is also better if you are required to cook for many people at once.
If you only use the appliance occasionally and have basic cooking needs, you can choose a microwave oven. This appliance takes less time to cook the food.
These are the things you should consider before buying one of these appliances. To get the best results, ensure that you choose the appliance that meets your needs.