Kerala already has many wonderful places to visit, including national parks, wildlife sanctuaries, beaches, temples, and other attractions. Kerala's Tourism Department has come up with a new attraction to lure foreign and local tourists to God's own land in a fresh endeavor to make Kerala tourism more spectacular.
In order to increase Kerala tourism, the District Tourism Promotion Council (DTPC) and the Ports Department recently built a floating bridge at Beypore Beach in Kozhikode. The bridge was officially inaugurated by Minister of Public Works of Kerala PA Mohammad Riyaz on March 31. 
Tourists have been flocking to this gorgeous floating bridge in Kerala with the best tour packages since it was built, eager to try this new adventurous activity. As people also love to try new things, they have already started visiting Beypore Beach in Kozhikode and enjoying the experience of riding on waves.  
Tourists and adventure seekers experience one-of-a-kind thrills and excitement. The bridge will give you an amazing experience with rises and falls along with waves. This is a new exciting activity to add to the Kerala itinerary for those who adore the state.
This new adventure activity is entertaining for travelers, and the pleasure on the floating bridge is something you would not want to miss.  It is quickly becoming one of Kerala's best tourist destinations with increasing tourists.
Things you should know about Floating Bridge
The bridge is 100 meters in length and 3 meters in width.

There are 1300 HDPE blocks, each weighing 7 kg.

It is built up of high-density polyethylene blocks that can transport 500 people at a time, but only 50 people are permitted to wear life jackets right now for safety reasons. 

At the end of the bridge, there is a 15-meter-wide platform that stretches out to the sea.

The most intriguing feature of this bridge is that it can be simply installed, removed, and relocated as needed.

The bridge is supported by 31 anchors weighing 100 kg each. As a result, there is no risk of an accident.
Other fun activities at Beypore Beach
The beach is a treasure trove of peace and tranquillity with its lovely environment. There are long golden beaches and intriguing coconut palms swaying softly in the mild wind. This beach is pristine and ideal for a relaxing day.
One should visit Beypore Beach with the best holiday packages to try amazing water sports like Surfing, parasailing, skiing, swimming, fishing, kayaking, and sunbathing to have an amazing break from this hustle of life. 
However, the beach has breathtaking natural beauty, water sports, and sunbathing, moreover, you can also enjoy here ayurvedic treatment to relax your body and mind. One of the main attractions is the restorative Ayurveda massage, which attracts visitors from all over the world.
Enjoy the Best Beach Adventure in Kerala with Floating Bridge
The freshly constructed floating bridge in Beypore Beach will undoubtedly become a popular tourist attraction in Kerala. We recommend that you go to Kerala to enjoy the floating beach since this is something you won't be able to do anywhere else in India. Furthermore, you would love to enjoy its stunning ocean views.
Kerala is well-known for its backwater tourism and water adventure sports. The rich history, culture, and cuisine of the location attract tourists from all over the world. Walking on the waves with panoramic views of the Arabian Sea on the west and the Peaks of Wayanad highlands on the east.
So, if you're thinking of going on a beach adventure trip in Kerala. Now is the perfect time to try out this new adventure activity with your family and friends.
Worried about your safety?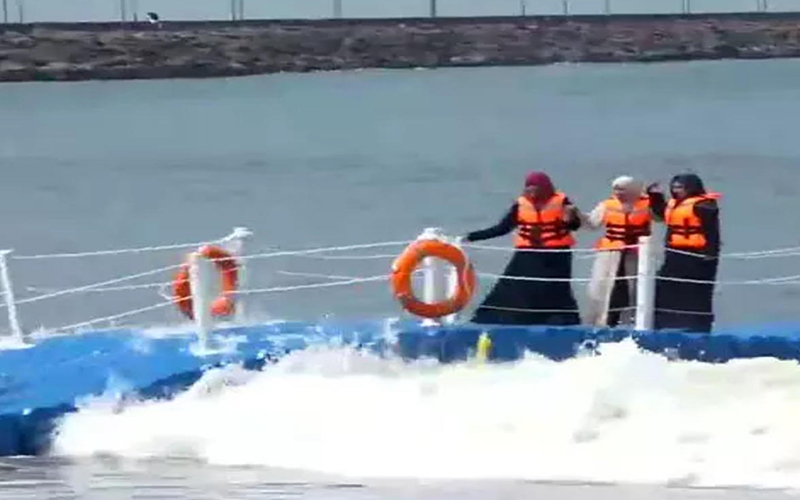 When you're having fun on the bridge, there's no need to be concerned about your safety. The bridge is completely safe, as both sides have barriers to keep people from falling. It would be one of the most enjoyable vacation experiences you've ever had, and you'd love to spend time here.
If you're considering a trip to Kerala, this magnificent Floating Bridge in Kozhikode is a must-see. You'll appreciate this incredible sensation of dancing with the ocean's wild waves.
This will be a really very new experience for you and it's completely safe.
Floating Bridge Timings
Terrorists can enjoy the Floating Bridge at Kozhikode's Beypore Marina Beach from 11:00 a.m. to 6:00 p.m.
Ticket to the Floating Bridge
The cost of a ticket to see the Floating Bridge is INR 100 per person.
How to reach the Floating Bridge
You can get there by train to Kozikhdode or by flying to Kozikhdode International Airport and then taking a cab or taxi to your destination.
Kerala is always famous for its backwater tourism, but today floating over the waves with this floating bridge is going to be one of the top water adventure activities in Kozhikode, Kerala.