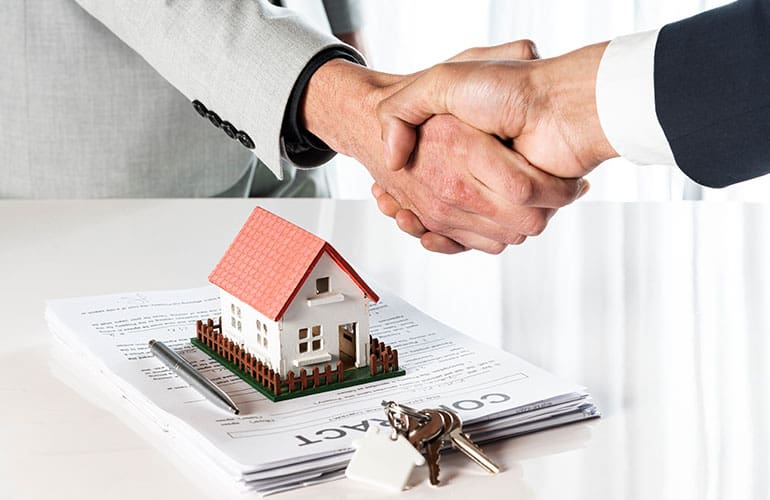 We are all aware of the physical, psychological, and financial effects that the COVID-19 pandemic has had on the majority of the population. The financial crisis that many people were going through was too much for them to bear alone. Personal loans from family or friends or loan products from financial organizations may be used. These financial firms provide a range of loan types. Depending on the situation, it may be a secured loan or an unsecured loan.
When it comes to loan security, you might use a Loan Against Property (LAP). For property loan, there aren't any particular property kinds. You might obtain it by taking out a loan against your residential property or your commercial property. 
An online LAP application can also help you as you relax in your house. To finish the process and apply for the loan, you simply need to submit the needed documentation for a loan against the property.
A loan against property might serve as a financial safety net to assist your various financial needs. A Loan Against Property can be utilised to get a lump sum of money quickly in uncertain situations. You are free to use the loan for a variety of purposes, including paying for urgent medical care, paying for an abroad school, throwing a wedding, and more.
The several types of properties that lenders make loans against include residential, commercial, warehouse, and industrial properties. However, because the loan amount may be higher, it is crucial to carefully select your lender. More importantly, picking the correct loan tenure will enable you to manage your money well without overextending your budget.
Advantages of a Property Loan
The relevance of loans against property is best understood by considering the following details:
Get a LAP at a Lower Interest Rate –
The risk to the lenders is less because the loan is secured; as a result, the LAP Interest rate is lower than that of other loans. This can be regarded as one of a LAP's main benefits. Additionally, because you receive a reduced interest rate, your EMIs would be cheaper as well, making it more cost-effective.
Continued Possession of Property –
Even if you've mortgaged your home to get a bank loan, you still retain sole possession of the property. Even when you finish paying back your loan, you can keep utilising the property. The nicest aspect of this loan may be the non-transfer of ownership and possession. For LAP, such as self-occupied/rented-out property, you can obtain a loan by mortgaging various property types. You may apply for a loan against either business or residential property.
Partial Funds Disbursement –
LAP gives you the option of partial loan disbursement, allowing you to receive a portion of your loan amount and reserve the remainder for a later time. If you have a loan for construction, this facility is especially helpful. 
Additionally, by paying interest solely on the disbursed amount, you can request that the sanctioned amount be disbursed in several tranches as needed.
Long Repayment Period –
Unlike unsecured loans, which have a shorter repayment period, you will be given a prolonged repayment period once your online LAP application has been approved. LAP is a profitable alternative as a result because it permits low interest rates and lengthy repayment terms. Additionally, a long repayment period divides the amount repaid into manageable EMIs.
Higher Loan Amount –
A LAP can help you manage your large-ticket expenses for both your personal and professional demands. Because it is a secured loan and enables financing up to 75% to 100% of the property's value, the loan amount is larger.
It also offers longer terms and lower interest rates because it is a collateral-based loan.
5 LAP Essentials You Must Know
When you submit your online LAP application and the relevant papers for loans against property, be sure to take into account the following:
1) Property Valuation –
 Various property kinds can be mortgaged with the lending institution to receive LAP. Your property's market value will be assessed using recent market prices. Based on a valuation and the filing of the required paperwork, the lender may approve a loan amount up to 70–80% of the value of your property. As a result, the value of your property may vary amongst lenders.
2) Rate of Interest – 
Despite the fact that LAP interest rates are significantly lower than those for personal loans, it is always advisable to conduct market research and compare interest rates. Additionally, interest rates charged by lending organisations vary, so you should take your time before applying for a quick loan. For instance, the interest rate for a loan secured by commercial property will vary depending on the lender.
3) Loan Repayment Period:  
Lengthier Loan Repayment Periods are offered by Lenders to Borrowers for LAP Repayment. The length of the loan payback period varies typically from lender to lender. LAP is provided by some lenders for up to 15 years. You must strike a balance between tenure and EMIs if you are a borrower.If you have a longer loan tenure, the compounding effect of variable interest rates could have an impact on your EMIs.
4) Loan Processing Costs: 
Lending organisations impose processing fees in accordance with their terms and conditions. For instance, it might be a minimum/maximum fix-cap amount or anything between 0.5% and 2% of the sanctioned loan amount. Therefore, decisions about you shouldn't be made based just on interest rates. It is preferable to think about the processing fees associated with obtaining an LAP.
5) Ownership of the Property –
 A variety of property kinds are offered as security for LAP, and ownership should be evident. If the property you are committing to the lending institutions is challenged or the paperwork pertaining to it are incoherent and lacking, the lending institutions may reject your loan application. You as the single owner must have access to all essential documentation, for instance, in the case of a loan against commercial property. If there are joint owners, their approval is required in order to obtain a loan against that asset.
Conclusion
The greatest alternative for you as a property owner to meet your financial demands is a loan against property. You merely need a reliable lender who provides the loan package that meets your needs.