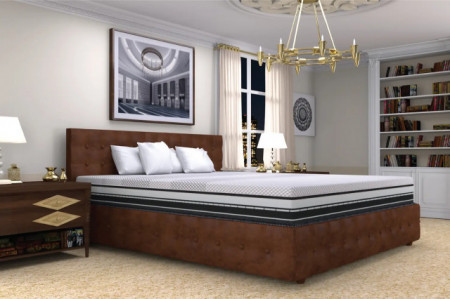 Nothing is as important as sleep to keep your body active and healthy. A very important tool that you definitely need to have quality sleep is a superior mattress. Having the right mattresses will lower your stress, reduce body pain and enhance your deep sleep. Likewise, you have to make adequate market research to invest in the best quality and reliable mattress kind. Centuary mattress is a very popular brand and best-selling variant in today's market. There are a lot of models available in this brand which you can probably buy. You can get this single bed mattress lowest price when compared to other established and renowned brands.
This article has the necessary information of all the best-selling Centuary Mattress, which has been considered to be India's Sleep Specialist for over 30 Years. So, go through this article to know more!
Centuary Mattress Joy – Coir Foam Mattress (72x30x4, Single)
Starting with the most affordable range, this variant is the lowest-priced mattress that is produced by the brand of Centuary mattress. This is a single mattress and is available in the coir foam variant. The price of this mattress is just three thousand rupees, and you can use this mattress as a double-side one which is very economical. The thickness of the mattress is around 4 inches. This Centuary mattress is made of a unique combination of Rubberised Coir, Ortho Foam, and Rebounded Foam which makes it an attractive option. This single bed mattress lowest price makes it the best buy option.
Centuary Mattresses Dr. Sleep – Orthopaedic Coir Mattress (72x30x5)
This variant of the Centuary mattress is the best for people who experience chronic body pain like knee pain, joint pain, neck and back pain. The cotton and foam present in this mattress active as an effective pain reliever and provide utmost comfort to the individual. The price range of this mattress is found to be around six thousand rupees. This doctor-recommended mattress is the best choice for children and old age people who prefer soft and comfortable beds for sleeping. Made of cotton, coir, and foam, this mattress is the best choice for your house. 
Centuary Mattresses Sleepables 6 Inch Multi-Layered Pocket Spring Mattress (75 x 72 x 6 Inch, King)
Little on the higher end, the Sleepables mattress produced by Centuary Mattress is the right choice for all individuals, be it young or old. The premium cotton and foam present in this mattress offers superior comfort and cosiness. You will not be disturbed or feel uncomfortable during your sleep. This king-size mattress will be the right choice for a small family with one or two children. All can easily accommodate in this bed and sleep with peace and comfort. The multilayer construction makes this mattress very durable and long-lasting. The Soft Knitted Fabric and Quilted Cover is another attraction of this wonderful Centuary mattress. The price of this mattress is around thirteen thousand rupees. 
Centuary Mattresses Lotus 4-inch Single Coir Mattress(72X30X4)
Another very affordable and effective variant from the Centuary mattress is the Lotus variety. This model is available from a very low budget range and can be the best option for people who are looking forward to buying a quality mattress on a budget. The price of this mattress is around three thousand rupees, and it is a fair deal to buy. This single bed mattress lowest price makes it the best buy option for you and your family. The rubberised coil present in this mattress will allow the mattress to be bouncy and new for years after purchase. It is the perfect option on a budget.
At Bajaj Finserv EMI Store, you can find more amazing models of Centuary mattress and get them at a no-cost EMI option and zero down payment. They have more than a million electronics and home appliances for you to choose from. You can visit the nearest EMI store and make your purchase. You can also apply for the Bajaj Finserv EMI network card and get it with a pre-approved loan amount of Rs. 4 Lakhs for an easy EMI payment option. Check out the online store now!
Also Read- 3 Basic Styling of Carpet