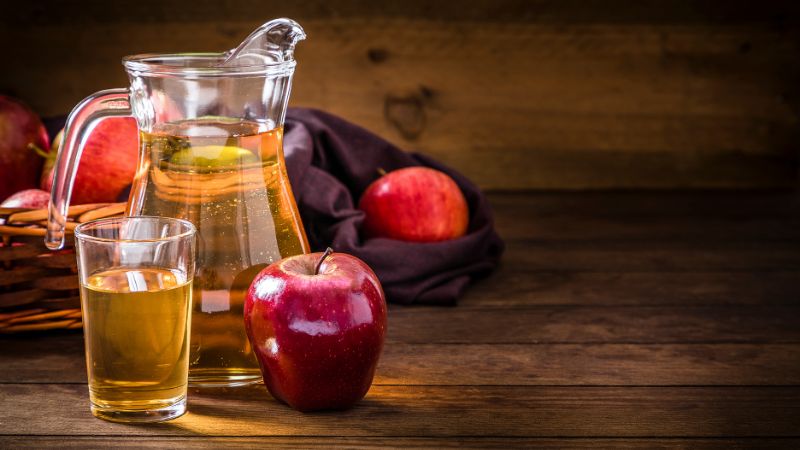 Apple cider vinegar (ACV) is a natural weight loss supplement mainly made up of fermented crushed apples.  It also contains acetic acid, responsible for its odor.
Moreover, according to some studies, it alleviates acne, heals sunburns, and clears up dandruff.
But still, there are misconceptions about Apple cider vinegar. Some potent users claim that it curbs cravings and suppresses appetite, which eventually promotes Weight Loss.
On the other hand, some newbies say that it is highly acidic and can cause nothing but severe health issues.
Henceforth, to clear this misapprehension we are here. Our aim is to provide ample information so that at the end of this discussion, you have enough knowledge about it. Let's start!!!
What is Apple Cider Vinegar?
To know everything about apple cider vinegar weight loss, you must have to clear your thoughts about the basics.
Mainly, Apple Cider Vinegar is formulated in a two-step fermentation process. During the process, at first, apples are crushed and combined with yeast. It helps apple sugar to convert into alcohol.
Then, some bacteria are added to ferment the alcohol into acetic acid. The main component of Apple Cider Vinegar is acetic acid. Although it also contains some other acids like malic acid.
Moreover, evidence suggests that it could possibly offer some health benefits, like:
Promotes weight loss
Lower blood glucose levels
Reduces cholesterol
Improves diabetes systems
Controls Appetite
May boosts skin health
Burns accumulated Fat
Hence now, we are shifting to our main topic "Does Apple Cider Vinegar Help You Lose Weight?" Let's explore
Is Apple Cider a Good Idea for Weight Loss?
Yes definitely…it is. Opting for Apple Cider Vinegar as a weight loss supplement is definitely a good idea.
Evidence claims that when you combine ACV with a low-calorie diet and a regular workout regime, it aids weight loss. It curbs your cravings by giving you the feeling of fullness.
Also, before weight loss, it was presumably used as detoxification and as an antibiotic. Since we all know that for modest weight loss in humans reduction of triglyceride levels is responsible.
Moreover, studies also say that acetic acid prevents fat decomposition and increases metabolism. Let's see how ACV helps in losing weight:
It supports the stomach lining to secret juice for better digestion
Along with this it improves the gut-health
Its de-bloating properties help to clear out excess water from the body
Increases the activity of the enzyme to break down the fat; and
keeps blood sugar levels in control
Since it has a diverse range of benefits, you must want to talk about the downsides of apple cider vinegar weight loss.
Are There Any Side Effects of Apple Cider Vinegar?
Although apple cider vinegar is a natural remedy, there is a little risk too.
Since it is vinegar, there are a few warnings or precautions you need to take care before approaching ACV for weight loss. These are:
Apple cider vinegar promotes low potassium levels. But somehow long-term consumption of it can worsen low potassium levels.
Alter insulin levels, hence people with diabetes should have to be particularly cautious about it.
If you are consuming ACV then you must check that vinegar should be diluted properly. As it is highly acidic, it can damage your tooth enamel.
Moreover, after taking these precautions you can add this natural Apple Cider Vinegar for Weight Loss in 1 week without exercise. Want to know how to use apple cider vinegar to lose fat? Let's dig it out.
How Do You Use Apple Cider Vinegar For Weight Loss?
Undoubtedly, the answer to your query is whether apple cider vinegar helps you lose weight is yes. Now the question arises of how to drink apple cider vinegar in the morning for weight loss?
There are numerous ways to use ACV to lose weight, however, the best time to take ACV to lose weight is in the morning with warm water. Also, you can complement your salad by dressing it with some drops of ACV.
Now it's time, to sum up, the overall discussion to give out a final verdict.
The Bottom Line
Since you have got your answer about does apple cider vinegar help you lose weight?
You can opt for any certified ACV supplement, to get the benefits of weight loss At last, we want to say that while proponents of apple cider vinegar may claim that it has plenty of Weight Loss benefits.
But since it is acidic in nature it is suggested to always drink its solution under the supervision of health care professionals.
Also, pair it with a good workout regime and healthy diet plan to get rapid results.