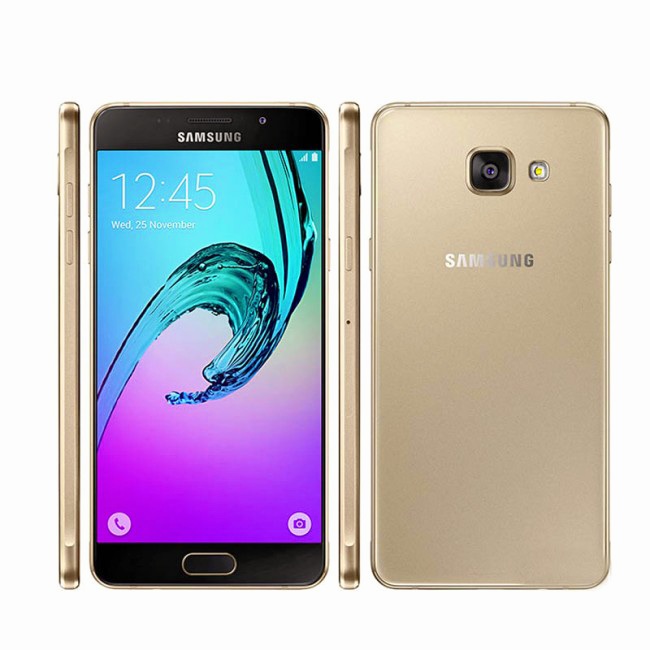 Hello and Welcome to this blog! Today we have brought you our review of the Samsung Galaxy A5 2017. Samsung A-Series phones are in the middle of their S-Series Premium phones and J-Series Budget Phones. There are three phones in A-Series A3, A5 and A7. Before I start this review, I tell you that. If you are looking for best smartphone for gaming please check this smartphone.
Therefore, it would not be wrong to say that A5 is right in the middle of Samsung's range of phones. A truly mid-range phone. Samsung A5 2017 was released in January and in Pakistan, this phone is available in four colours: Blue Mist, Gold Sand, Peach Cloud, and Black Sky. And this phone retails at Rs. 47,000 (USD 450). The target market for A5 are those people who are looking for a phone in between Flagship and Budget ranges. Many of its features are like those of the S7 but its price is a great deal lower than the S7. So lets check out the Samsung Galaxy A5 2017.
Build Quality
Talking about Build Quality, Galaxy A5 has glass on the front and back Front and back edges are curved and Samsung is calling it the '3D Curved Back' like we saw in the Note 7 and in the middle, there is a brushed metal frame. One good thing is that there is no camera bump at the back and this phone stays flat on the table.
On the front, there is Gorilla Glass 4 which helps against the screen getting scratched. A unique thing about this phone is that, instead of the Speaker being at the bottom, it is on the right near the Power button. It seems that the speaker has been placed here so that it does not get covered in landscape while watching videos. But I think this placement is a bit awkward and often the speaker would get covered up in both portrait and landscape. This may be because the speaker has very few holes and so is easily covered or maybe I am not used to it and so did not like it.
Also, the volume of the speaker seemed a bit low to me. At the bottom, there is the headphone jack and a USB-C port which is a good thing because USB-C is the future.
On the left, are the volume up and down buttons and its SIM tray. On the top is the secondary SIM and microSD card tray which can take a microSD card of up to 256 GB.
Biggest plus-point
Lets now talk about the biggest plus-point of this phone's build which is its IP-68 dust and water resistance which means that this phone can be submerged in 1.5 meters (4.90 feet)of water for up to 30 minutes. In terms of looks, this phone is definitely really good. In your hand, this phone feels like a premium flagship device.
Where the glass back makes the phone very beautiful it also has a very big problem which is that it gets a lot of fingerprints very easily. Another problem with the glass back is that if you drop this phone, the glass has no chance as compared with a metal back. A5 has 1080p Full HD, Super AMOLED Display, which pushes out 424 pixels per inch. It also has an always-on display which consumes very little battery according to Samsung and can show you calendar, time and notifications all the time. Samsung is the world leader in phone displays.
We do not want to do a long analysis of the display because everyone is aware that Samsung's S-AMOLED panels are the best in the industry and the same is true here as well.
Camera
This phone's front and back camera are both 16 megapixels. Overall performance of the back camera is average. Normally, this camera takes good pictures but in low light, this camera is very weak and images get blurred very easily. There is no optical image stabilisation which makes the videos very jerky and there is no 4K video recording and no dual camera setup.
The camera has manual control options with which you can control all the settings. Alongside this, there is also a floating camera button feature which is useful in controlling the camera with one hand. Following are some of the images taken with the Galaxy A5:
The selfies camera on the front is also 16 megapixels and selfies lovers will love this phone for it. The phone has 32 GB built in memory, which is expandable up to 256 GB with a microSD card There is also 3 GB RAM which is a bit low for this price range. In this price range, other phones such as the OnePlus 3T offer more RAM than this phone OnePlus 3T has 6 GB RAM.
Performance
In terms of performance, the RAM is not insufficient because its Exynos 7880 Octa Core processor is good but if you are a power user and run heavy games, a bit more RAM would be useful. Looking at the Geekbench scores this phone's score is very close to the Huawei Honor 6x and Honor 6x sells at half the price. This phone supports dual-SIM and the good thing is that you can use  a microSD card and two SIMs simultaneously and you do not have to choose between microSD or a second SIM.
Samsung A5 is currently shipping with Android 6.0 Marshmallow but news is that Android 7.0 Nougat will soon be on this phone. On top of Marshmallow is the Grace UI which is an upgraded version of TouchWiz and brings some new functionality like extra options on long presses which you get in 3D touch. Along side, this there is some other new functionality, a few tweaks but for TouchWiz users its not too different.
The fingerprint sensor on this phone is quite average. It works but many times, it did not recognise fingerprint on the first touch and the speed is also normal. Neither too fast, nor too slow The fingerprint sensor is not bad but definitely not the best we have seen.
Battery
If we talk about the battery, this phone has a 3,000 mAH battery and also has fast charging and empty to half charge took 30 minutes and empty to full charge took 1 hour 30 minutes. Overall battery performance was average  Even with moderate use, this phone struggles to get through a full day but because of fast charging, we did not feel this issue much. We really like the build quality of Samsung Galaxy A5.
This phone looks like a mini flagship phone, has a beautiful displaay and performance overall, is decent. But at a price of Rs. 47,000 (USD 450), this phone is a bit expensive. If this phone was between Rs. 35,000 – 40,000 (USD 350 – 400), we would recommend it to everyone. But if you love the Samsung brand, want water resistance and a very beautiful phone that supports dual-SIM, then you should consider this phone. Thanks for reading this article. If you are interested in reading technology related articles, please visit this website. If you are interested in headphone, please read this article.